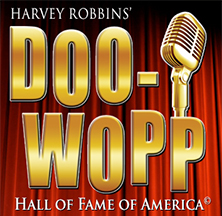 Be our guest to Harvey Robbins' Doo-Wopp Hall of Fame of America Induction and Live Concert at the North Shore Music Theatre.
PETE HERNANDEZ and The LOVENOTES 
 
THE VANDELLAS
Dancing In The Street • Heat Wave • Jimmy Mack
 
THE CONTOURS
Soundtrack stars of Dirty Dancing
Do You Love Me (Now That I Can Dance) • Shake Sherry
SID HALL
I Only Have Eyes For You • Lovers Never Say Goodbye • Mio Amore
 
THE DYNAMICS
The Ice Cream Song" • I'm The Man • What A Shame • Funkey Key
To Show We Care will provide a Free ticket for persons currently in Cancer treatment and their companion. (Two Tickets)
Reservations must be made no later than Friday, October 12.