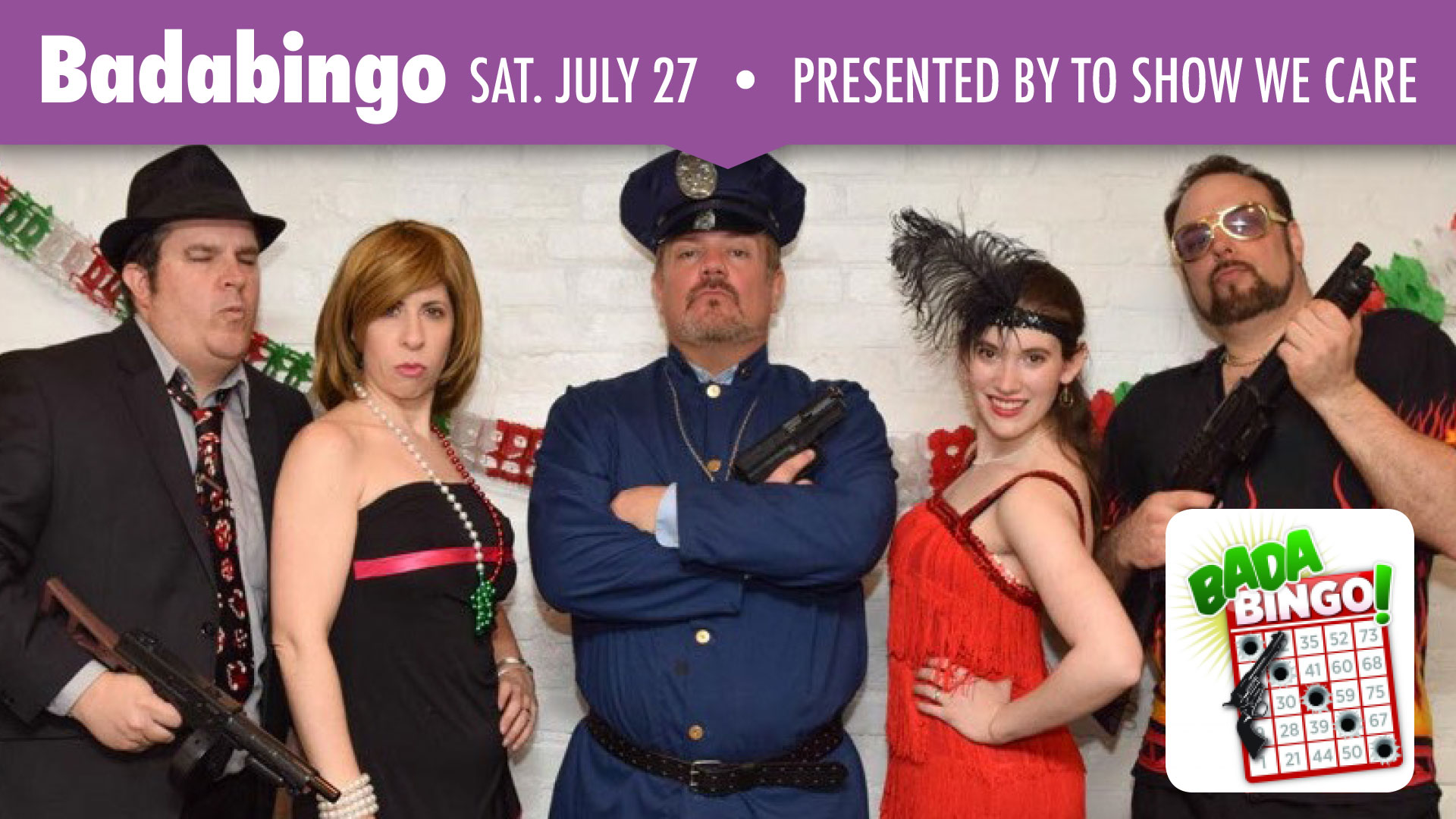 TO SHOW WE CARE
presents
BADABINGO!
TICKETS ONLY $63 PER PERSON!
IN A WORLD OF 24/7 MEDIA AND HIGH-TECH SURVEILLANCE, THE INNOCENT MOB FAMILY SEEKS TO CLEAN UP THEIR IMAGE BY PUTTING ON A LEGITIMATE NIGHT OF ITALIAN FOOD, FUN AND FAMILY ENTERTAINMENT – AND YOU CAN PLAY ALONG!.
However, it's not long before tempers flare as gangsters and associates have very different ideas of how the night should run. Sure enough, murder is soon on the menu, and the family finds it might not be so easy to leave the criminal life behind!
Join us for comedy, mystery and a few rounds of live Music Bingo!
---
SCHEDULE
5:00 pm: Doors Open
5:15 pm: Buffet Dinner
6:00 pm - 8:30 pm: Performance
---
ABOUT THE MENU
Mixed Green Salad
Buttered Green Beans
Roasted Rosemary Red Potatoes
Cavatappi with Marinara Sauce
Eggplant Parmesan
Chicken Scaloppini
Veal and Beef Meatballs
Dessert
---
WHAT'S NOT INCLUDED?
Drinks are NOT included in the ticket price, but we do have them available for purchase.
---
ABOUT US: To Show We Care

To Show We Care is a 501(c)3 not-for-profit which hosts entertainment events and programs for people affected by life-threatening illnesses such as Cancer and ALS.
Since 2013, we have been fortunate to have been able to host over 58 events attended by over 2,600 patients, caregivers, and family members!
---
ABOUT THE VENUE: Backstage Bistro
The North Shore Music Theatre's Backstage Bistro is a theatre-themed dining room surrounded by props and set pieces from some of NSMT's greatest musicals. The Backstage Bistro is just up the hill from the Theatre. Parking in the Theatre's front lot is Free for this event.
Backstage Bistro
62 Dunham Road
Beverly, MA 01915
---
ABOUT THE PERFORMERS: Head First Events, LLC.

Home to the Mystery Cafe, Haunted Dinner Theater, Meeting Escapes, Dining in the Dark, Boston Chocolate School, Game Show Nation, Scaventures and the wildly popular Mansion Mysteries, Head First Events has been providing unique and exciting entertainment experiences to local audiences for over 30 years!
---
ABOUT THE CATERER: Relish Catering and Events

The team at Relish Catering and Events brings a unique blend of superb culinary skills, passion for design and presentation, event management expertise and most of all, knowing what it takes to throw a great party. Whether it be a garden wedding, an intimate dinner, a fundraising gala or lobster bake on the beach – our experienced staff assist in turning their client's vision into a perfect event.
---