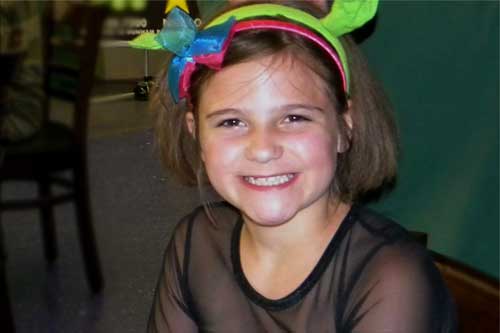 My name is Sicilia. I'm ten years old and starting middle school. I live with my mom, dad and little brother. I think I'm funny. I'm into acting. I love singing in front of a crowd and I'm a big Disney fan.
When I was two years old I was diagnosed with Acute Lymphoblastic Leukemia. I remember I had to stay in the hospital a lot and I couldn't really walk. I was very sick and I hurt a lot. I couldn't see my friends. It was really horrible.
I had to take lots of medicine, chemo and some other medicines that I remember were really yucky. I had to take chemo for two years. Chemo made it so that I could get sick very easily. I had lots of procedures like spinal taps and bone marrow aspirations.
I got sick a lot while on treatment. Once I was in the hospital for over a week with pneumonia. I had to fight with the nurses to let them put tubes in my nose to help me breathe. It was horrible and a little painful. I had started preschool but I missed a lot of school because I was sick a lot or couldn't be around people who might be sick.
My cancer is now in remission but childhood cancer never really ends. I still have side effects, called long term effects that I will have for the rest of my life. I get tired really easily.
Like in school I feel very tired sometimes. Running can make me tired too. Sometimes gym can be very tiring. I have a really hard time trying to remember things for tests. I forget things a lot. My handwriting is really messy and sometimes nobody can understand it, not even my teachers.
I have to go to Occupational Therapy for that and other fine motor skills. I'm a slow reader and it wasn't easy to learn how to read. Spelling is the worst subject ever. I can never spell anything correctly. It's hard to remember how things are spelled. It's hard to remember lots of things. I still get sick a lot. My doctors say that those things are all caused by chemo.
I think I am really proud of myself to have beaten cancer. It felt challenging through ages 2-4 and it feels great to now be cancer-free. Being a cancer survivor means that I have done some things that other kids have never done before, like I get to experience special events for people like me, such as my Make A Wish Trip, Camp Sunshine and also, To Show We Care.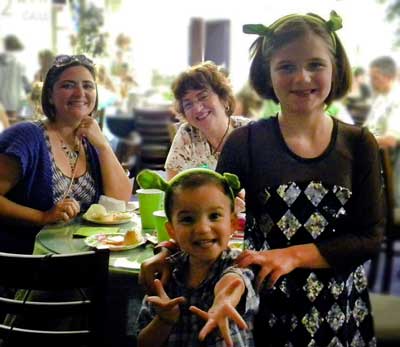 We found out about To Show We Care through another charity for children with cancer -Lucy's Love Bus. They had To Show We Care on their Facebook page. They were going to be sending some people to see CATS at Northshore Music Theater. My mom emailed them to see if I would be able to go and they gave us tickets. I went with my mom and nana.
It was the first time I went to see a real play. CATS was a really good show. It had a lot of effort put into it I think. It was really entertaining. I really liked the singing and the dancing. It was really exciting and fun. Meeting the cast after the show is really good. I get to ask questions about how it feels to be an actor.
The cast members are really funny and once you meet them in person you get to find out really cool things about them. I met this girl named Haven who was an actress. I was a little shy at first to get around and meet the characters, but once I met Haven, she took me around and introduced me to a lot of the other actors.
Once I saw CATS it made me get into acting. I have now been in three plays with a local kid's theater group. What I like most about your events is the raffles, even though I've never won one, but I got to pick the winner's name. I also really like the free food. I just could get up whenever I wanted and get food, because I love food.
Stephen is super funny. He makes me sign autographs for him. He is a really a nice person and I'm so glad he started To Show We Care. If I was never introduced to To Show We Care, I probably would never have discovered that I like acting. To Show We Care has done many things for me. It's been a way to take a break from a lot of things going on in my life and relax. It also got me interested in acting, which is now my favorite thing to do. I don't think I would be acting if not for To Show We Care.
I think it's really amazing that To Show We Care lets people with cancer have a break and enjoy a night out at the theater. They get to dress up, go out of the house, eat good food, watch a great show, meet the actors, and have fun. Cancer treatment isn't fun, but To Show We Care, lets you take a break and have fun.